Ahh… comfort food.  The smell of home.  The feeling of childhood.  And who doesn't like amazing comfort food made from scratch? Say hello to Milton Ontario's Scratch Bistro & Bake Shop.
And what better to go with comfort food than a great storytime! A former truck stop that has been transformed into a quaint bistro, now a one-stop destination for breakfast, lunch, chocolate and baked goods all-in-one.  You will find the bakers hard at work making their superbly flaky pie pastry and their fillings all from "scratch"! Numerous years of experience baking the delicious recipes have resulted in sell-out weekends of their delicious cream pies – including their signature Butterscotch Cream Pie – to die for!. They also offer a lovely variety of crave-able cookies, sensational squares and the most tempting tarts!
Now, let's talk about the hero of this story- the food!  If you're a fan of the most important meal of the day (or brunch), Scratch Bistro serves up some of the best french toast, steak and eggs, and fluffy omelettes that I've ever had. If there ever was a secret gem to be seen in this town, this would be it.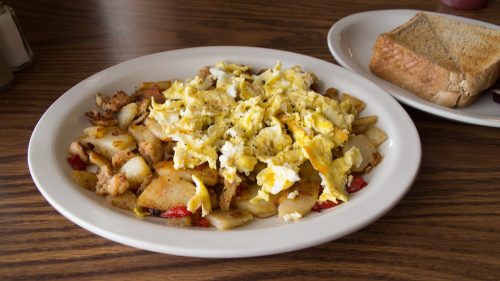 Scratch Bistro also make chocolates, pies (sweet and savoury), tarts, cakes, loaves and pretty much everything you can imagine… all from scratch.  This is a wonderful, refreshing break from the recent trend of restaurants building their business around frozen, pre-prepped ingredients.
If you're not a fan of sweet pies (explain yourself), don't fret- they have lots of savoury options as well.  And they're perfect for a quick lunch. Who doesn't love a traditional meat pie?  Just imagine how jealous your coworkers will be when you open up a pie in the lunch break room!
If you need a treat for your next party or just want to satisfy your sweet tooth, go for some of their fresh, daily-baked desserts. They sell out fast!  So if you're craving their perfectly-crafted tarts and cookie sandwiches be sure to get there early.
And of course, who could forget this wonderful time of the year… it's Christmas!  During different times of the year, Scratch Bistro's bakers will conjure up special, completely-unique holiday treats. And right now their most popular item is the Butterscotch Cream Pies. If you want one of these pies, make sure you call and pre-order yours well before Christmas.  And yes, you guessed it- they sell out fast.  So get there.  Like, yesterday.
The best part is that the Scratch Bistro is willing to share (some of) their ultra-secretive baking secrets to those who join up for their cooking classes.  I've been told that they're coming in the very near future, so keep your eyes peeled and stay tuned on their Facebook page for upcoming delicious events.
Thank you to Angela for showing me Scratch Bistro and Bake Shop.  I plan on being a regular customer.  Yes, I'm addicted to Scratch Bistro.  See you soon!